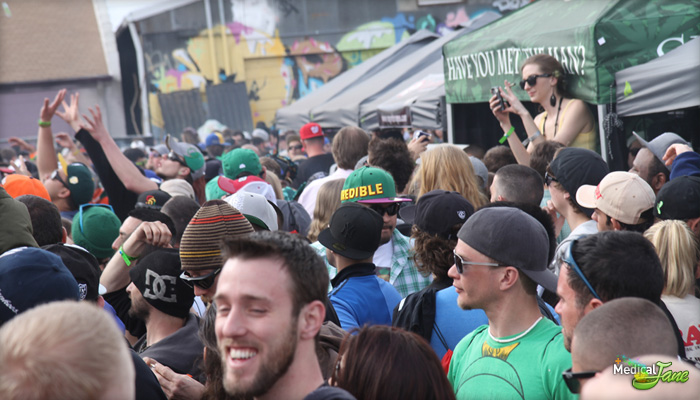 Recap of The 1st Ever High Times U.S. Cannabis Cup In Denver
After 40+ years for some enthusiasts, the first legal US Cannabis Cup came to a successful end Sunday night after the most memorable marijuana festival in the nations history.
According to a High Times representative, the event was expected to see an estimated 16,000 marijuana professionals and enthusiasts alike over the course of the weekends events. Thousands of low-eyed aficionados mulled amongst the hundreds of booths that spanned Larimer and Walnut streets spending their money on new rigs, clothing, and tons of other merchandise.
Although the High Times Cannabis Cup event has been held at the Exdo center in Denver for the past two years, only medical marijuana patients were allowed to smoke at the event. This year, people from all over the world had their chance to smoke legally thanks to the recently passed Amendment 64.
Day One: Medical Jane Sponsors The 1st Legal US Cannabis Cup
We spent all of Friday setting up for the event and meeting the other vendors and contest entrants. As hectic as it was, being as medicated and surrounded by good vibes made the entire experience incredible.
Saturday's lines stretched around the block multiple times, and the inside wasn't any less crowded. Although we were held down at our booth for most of the first day, we had a chance to walk over to the recreational lot after the first few hours. Despite it taking a solid 30 minutes just to walk there due to the lack of planning by High Times (They fixed this the second day and it was much better), it was definitely a rare scene once we finally made it.
Elaborate booths lined the outside area with towering speakers and dab stations set up like you are at Lens Crafters getting a glasses fitting (it was amazing). Seed, glass, and vaporizer companies dabbed out generous amounts of concentrates and rolled an endless amount of joints for the dedicated souls who were willing to wait in the lines for their taste of heaven.
Our booth was set up in the warehouse behind the EXDO Center that was for medical patients only. We were amongst some of the biggest names in Denver (and the industry in general) such as Nikka T from Essential Extracts, Pink House, RiverRock Wellness, and our co-sponsors Mahatma Ganja (who took home the best Medical Concentrate under the name Karmaceuticals).
We celebrated our 4:20 on Saturday by sparking a foot long Wiz Khalifa RAW paper after a guy stole it off our table (We found him in the room…Not cool bro). The rest of the day we let people come up and try samples of Mahatma chocolates, take a dab, or try out one of the many vaporizers that were out on our table (or all three if they wanted).
While everyone else spent thousands of dollars to promote a product they were selling, we had a great time meeting everyone and spreading the good word about cannabis. After all, that's what this event is really about.
Day Two At The First Ever U.S Cannabis Cup In Denver
The second day was less hectic due to a smaller attendance, but the celebration was still epic. The smell of sweet skunk and the well-liked Golden Goat (which was our favorite strain all weekend) filled the air all day and free edibles were passed out like candy. We even had an amazing medicated pulled-pork sandwich from Discreet Treats that made us hungrier than when we started. Luckily Incredibles had a fondue station with medicated chocolate in our area that we visited a dozen times at least.
"Greenwerkz dominated the Highest CBD category by bringing home both the flower and concentrate awards."
The award ceremony was shorter than previous Cannabis Cups and honored only first place winners in the categories of best overall flower and hash, medical concentrates, medical non-solvent hash, medical flowers (hybrid, indica, sativa) as well as medical edibles. Big winners included Reserva Privada who took home best Medical Hybrid as well as best overall US hash. The Clinic also took home 1st and 3rd in the Medical Sativa category as well as 3rd in the Medical Hybrid category.
What we really liked about the ceremony were the CBD Awards. We were so happy to see this powerful cannabinoid being recognized for its medicinal benefits and given its own category. The team at Greenwerkz dominated that category by bringing home both the flower and concentrate awards for their R4 Stable CBD Oil and the sativa flower it came from.
In addition, the separate category for solvent-less hash was a step in the right direction as far as we are concerned. Since we were located directly next to Essential Extracts, I stopped by their booth about ten times throughout the weekend to try out some hash from the master Yoda of solvent-less extracts, Nikka T. Apparently my taste buds were correct, because his Flo-G wax that I was infatuated with took home the prize in the Medical Non-Solvent Hash category. This stuff was too delicious.
A complete list of winners can be found below.