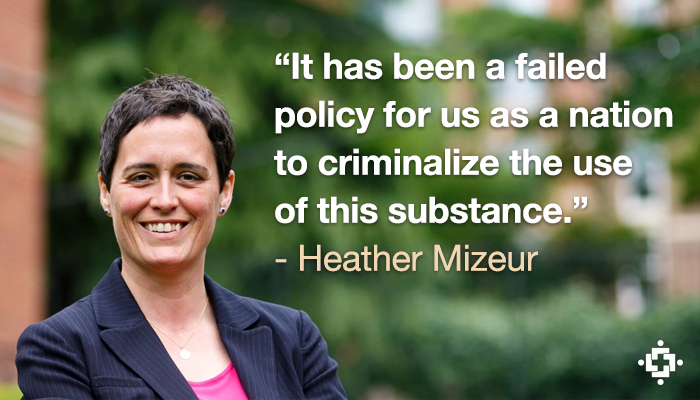 Maryland Candidate For Governor Supports Legal Cannabis
Maryland Gubernatorial Candidate Backs Legalization
Heather R. Mizeur, a Democratic candidate in Maryland's upcoming gubernatorial election, is calling for legal cannabis regulations in the state. She is preparing a proposal that discusses how Maryland could oversee the cultivation and distribution of cannabis.
Under Mizeur's plan, it would be legal for an adult to possess up to an ounce of cannabis grown in secure Maryland facilities. Nonetheless, smoking in public and driving under the influence would still be illegal.
"Marijuana is safer than alcohol and tobacco," she said in an interview with the Baltimore Sun. "It has been a failed policy for us as a nation to criminalize the use of this substance."
"Marijuana is safer than alcohol and tobacco."– Heather Mizeur
Mizeur estimates that licensed Maryland retailers would likely sell between 1.75 and 2.25 ounces of cannabis per year. She proposed a $50 tax for every ounce sold at the wholesale level and an 8% retail tax.
In turn, Mizeur believes that the adult-use cannabis industry would generate $122.5 million to $157.5 million each year, which would go toward the expansion of early education programs in the state.
In response to questions about children gaining access to cannabis, Mizeur explained that a regulated system would be a more effective way to keep it out the hands of minors
As she put it, "young people already have access to the underground product, and you don't find drug dealers asking for ID cards."
Mizeur Supports Legal Cannabis for Adult-Use
Mizeur's proposition comes at a time when voters in Maryland seem to support the legalization of cannabis.
"It will be interesting to see if the other candidates follow suit." – Mileah Kromer
According to a recent Goucher Poll, a slight majority (51%) of Maryland residents support legalizing cannabis for adult-use. Further, 58% of Americans "think the use of marijuana should be made legal," according to the latest Gallup Poll.
Mileah Kromer, who oversees the Goucher Poll at the Sarah T. Hughes Field Politics Center, explained that Mizeur's stand could draw the attention of Maryland voters.
"It's one of those things people will be interested in thinking about and talking about," Kromer explained. "It will be interesting to see if the other candidates follow suit."
Mizeur's campaign hopes face opposition from Maryland Lt. Gov. Anthony G. Brown and Attorney General Douglas F. Gansler for the Democratic nomination. With that said, she is the only Maryland gubernatorial candidate – Democrat or Republican – to openly support legalizing cannabis for adult-use in Maryland.