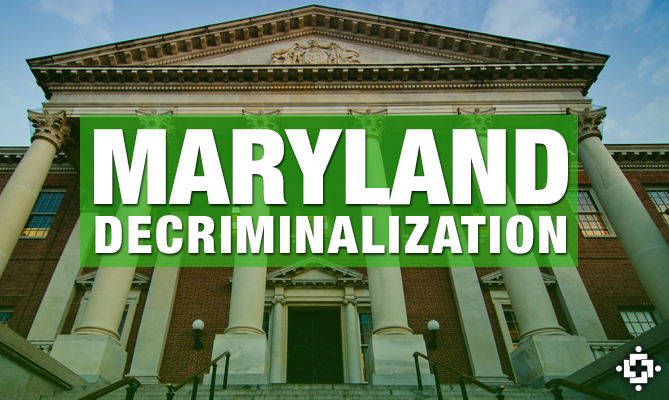 Maryland Senate Committee Approves Cannabis Decriminalization Initiative
ANNAPOLIS, MD — Just a couple days after Washington DC's City Council voted to decriminalize cannabis, the Maryland Senate Judicial Proceedings Committee approved a similar measure in an 8-3 vote Friday.
Co-sponsored by Sen. Bobby Zirkin (D-Baltimore) and Sen. Allan Kittleman (R-Howard), Senate Bill 364 would remove criminal penalties for limited cannabis possession. Instead, such infractions will be subject to a $100 fine.
"Criminalizing adults for marijuana possession will not make Maryland safer, but this legislation will," said Rachelle Yeung, legislative analyst for the Marijuana Policy Project. "Law enforcement officials should spend their time addressing serious crimes, not arresting and prosecuting adults for using a less harmful substance than alcohol."
Maryland Lawmakers Move To Decriminalize Cannabis
As written, Senate Bill 364 would make the possession of up to 10 grams of cannabis in Maryland punishable by a $100 fine. As of now, possession of small amounts of cannabis is a misdemeanor punishable by up to 90 days in jail and a fine of up to $500.
According to a Public Policy Poll conducted in September, a majority of Maryland voters (68%) would support changing state law to decriminalize small amounts of cannabis.
"Branding someone a criminal for possessing marijuana causes a lifetime of harm." – Dr. Nancy Rosen-Cohen
"Branding someone a criminal for possessing marijuana causes a lifetime of harm," explains Dr. Nancy Rosen-Cohen, executive director of the National Council on Alcoholism and Drug Dependence Maryland.
Ms. Rosen-Cohen goes on to say, "a criminal record of any kind becomes a barrier to employment and housing, which hurts both the individual and whole families."
Also included in the initiative is language that would make it so that penalties for underage possession of cannabis are the same as those for underage alcohol possession.
Senate Bill 364 will now advance to the full Maryland Senate for approval; They passed a similar measure last year with bipartisan support.