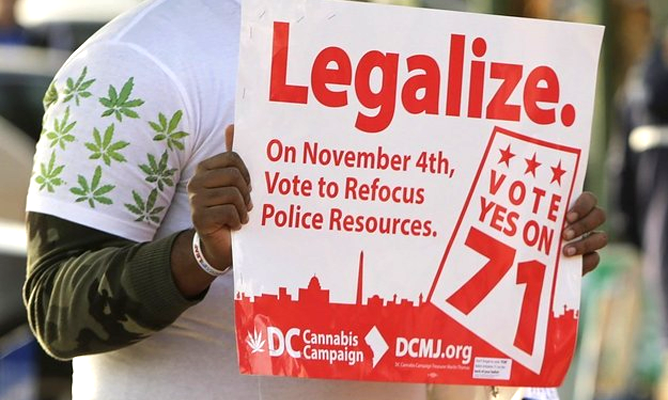 D.C. and Oregon Legalize Marijuana, Florida Voters Say "No" to Medical
It has been a busy day at the polls for marijuana reform with several states and even our nation's capital proposing change to current marijuana laws. Both Washington D.C. and Oregon voted in favor of legalizing the recreational use of cannabis. However, Florida's Amendment 2 bill did not gain enough support and will not be enacted.
Washington D.C. Voters Legalize Recreational Marijuana
Washington D.C. voters passed Initiative 71 with a 65% "yes" vote. This initiative makes the recreational use of marijuana legal in the nation's capital for the first time. Residents will be allowed to posses up to 2 ounces of marijuana for personal use and grow up to six plants in the privacy of their homes.
Although all of this seems to be a direct contradiction to federal law, it didn't stop the state from passing the measure with 20,727 votes in favor of marijuana legalization. With Republicans taking control of the Senate, this initiative could create friction in the capital.
Oregon Voters Legalize Recreational Cannabis Use
Oregon residents voted in favor of Measure 91 which legalizes the recreational use of marijuana. At press time the measure had 54% of voters in favor of legalization. Residents will be allowed to grow up to four plants in their homes for personal use under this new bill. The state will give regulatory control of marijuana to the state's liquor control agency.
Orgeon had a similar measure to legalize marijuana on the ballot in 1986, but it did not receive a majority vote. Patients have had access to medical cannabis under the Oregon Medical Marijuana Act which was enacted in 1998.
In a September report by the Oregon's revenue office, officials wrote "that in fiscal year 2017, the revenue from legal marijuana is expected to be $16.0 million with a lower range of $13.1 million and an upper range of $19.4 million." These estimates were seemingly based on the revenue generated by Colorado's legal marijuana market and those numbers were also cited in the report.
Florida's Medical Cannabis Initiative Fails
Florida's Amendment 2 that would have allowed for the medical use of marijuana needed a majority vote of 60% to pass and with only 58% approval at press time, the bill will not be enacted. The amendment would have allowed doctors to recommend medical marijuana for patients with "debilitating medical conditions." Had the amendment, titled "The Florida Right to Medical Marijuana Initiative" passed, Florida would have been the first southern state to legalize the use of medical cannabis.
There are some allowances for the use of medical cannabis under the state's "Charlotte's Web" bill signed in by Governor Rick Scott in June 2014. The bill was named after Charlotte Figi, a young girl in Colorado who found relief from epilepsy due to Dravet's syndrome after using a high CBD/low THC oil.
The bill allows for the medical use of this high CBD/low THC oil only, which, unfortunately does not address patients who may benefit from cannabis with higher levels of THC. Supporters of Amendment 2 were hoping the bill would expand the state's medical cannabis program to allow for medicine that could benefit all patients.