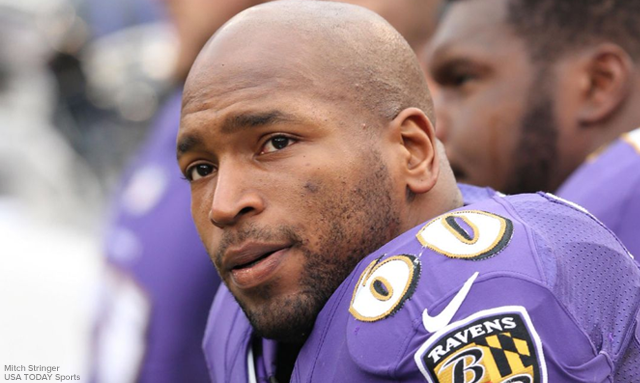 Ravens' Eugene Monroe Becomes Advocate for Medical Cannabis
Although Eugene Monroe is a three-time Pro-Bowl football player, he isn't exactly well known, especially outside the NFL – that is until now. In Baltimore, he is known as one of the guys who keeps Ravens' quarterback Joe Flacco from being annihilated by defensive ends. Recently, Monroe is getting more attention in the public after becoming the first active NFL player to openly advocate for the use of medical cannabis to treat chronic pain and head injuries.
Monroe has donated $80,000 to Realm of Caring, an advocacy group that is working with Johns Hopkins University School of Medicine, one of the most prestigious medical schools in the country. The money will go towards studying the impact of medical cannabis on traumatic brain injury and chronic traumatic encephalopathy, a degenerative brain disease linked to repeated hits to the head.
Injuries and pain are big problems for the NFL. According to a Virginia Tech study that fitted players' helmets with the same kinds of sensors that trigger auto air bags, football players were struck in the head 30 to 50 times per game and regularly endured blows similar to those experienced in car crashes. The researchers recorded 3,312 hits during 35 practices and 10 games, rotating eight specially fitted helmets among 38 players. Project leader Stefan Duma said offensive linemen endured the most hits, followed by defensive linemen, running backs, linebackers, wide receivers and defensive backs. Quarterbacks recorded the fewest hits. The helmets measure hits in multiples of the force of gravity. Half of the hits recorded were greater than 30 Gs. The hardest hits measured more than 130 Gs. "An impact of 120 Gs would be like a severe car accident, which you could survive if you were wearing a seat belt," Duma said.
"The NFL relies heavily on opioids to get players back on the field as soon as possible, but studies have shown medical marijuana to be a much better solution; it is safer, less addictive and can even reduce opioid dependence. Some studies have also shown that cannabidiol (CBD) — one of the more than 100 cannabinoids found in marijuana — may function as a neuro-protectant, which means it can shield the cells in the brain from injury or degeneration. We need to learn more about this." -Eugene Monroe, Baltimore Ravens
Such physical abuse has led to a dangerous degree of pain-medication abuse in football players and the results are terrifying. A study, commissioned by ESPN and conducted by researchers at Washington University School of Medicine in St. Louis, with additional funding provided by the National Institute on Drug Abuse (a division of the U.S. Department of Health and Human Services), found retired NFL players misuse opioid pain medications at a rate more than four times that of the general population.
Recent Facts & Figures from the American Society of Addiction Medicine reports that four out of five new heroin users began their habit after abusing prescription painkillers originally prescribed for a legitimate medical purpose. As a consequence, the rate of heroin overdose deaths nearly quadrupled between 2000 and 2013, and continues to rise at an alarming rate.
The answer to this madness is the legalization of medical cannabis. A study published in The Journal of Pain evaluated the safety of cannabis use by patients with chronic pain over one year. The study found that medical cannabis used for chronic pain over one year appears to have a reasonable safety profile and was associated with improvements in pain, function, quality of life and cognitive function.
In Monroe's own words, he says he is not advocating for NFL players (or anyone) to get high and party while breaking the law. He simply questions how a league so casual about the use of addictive opioids can take such a hard line on a drug that might provide a safer alternative. Monroe wants to make a change. He calls for the NFL and the NFLPA to take three actions:
Remove marijuana from the banned substances list.
Fund medical marijuana research, especially as it relates to CTE.
Stop overprescribing addictive and harmful opioids.
The answer can no longer be pills… and more pills.
Monroe says players have told him they support his call, but no current player has publicly backed him. The Ravens' owner, Steve Bisciotti, says he respects Monroe and thinks he is simply asking for more studying on the subject. Coach John Harbaugh, however, is not as supportive. Harbaugh told The Baltimore Sun, "I promise you he does not speak for the organization."
Monroe says he is not afraid of retribution because he does not use marijuana, but feels the benefits are strong enough to justify pushing the NFL and NFLPA to relax its position, even if it hurts his standing in the NFL. "My health is far more important than any possible career implications, Monroe said. "I want to be there for my family."
Citations & References
There are 4 references in this article. Click here to view them all.