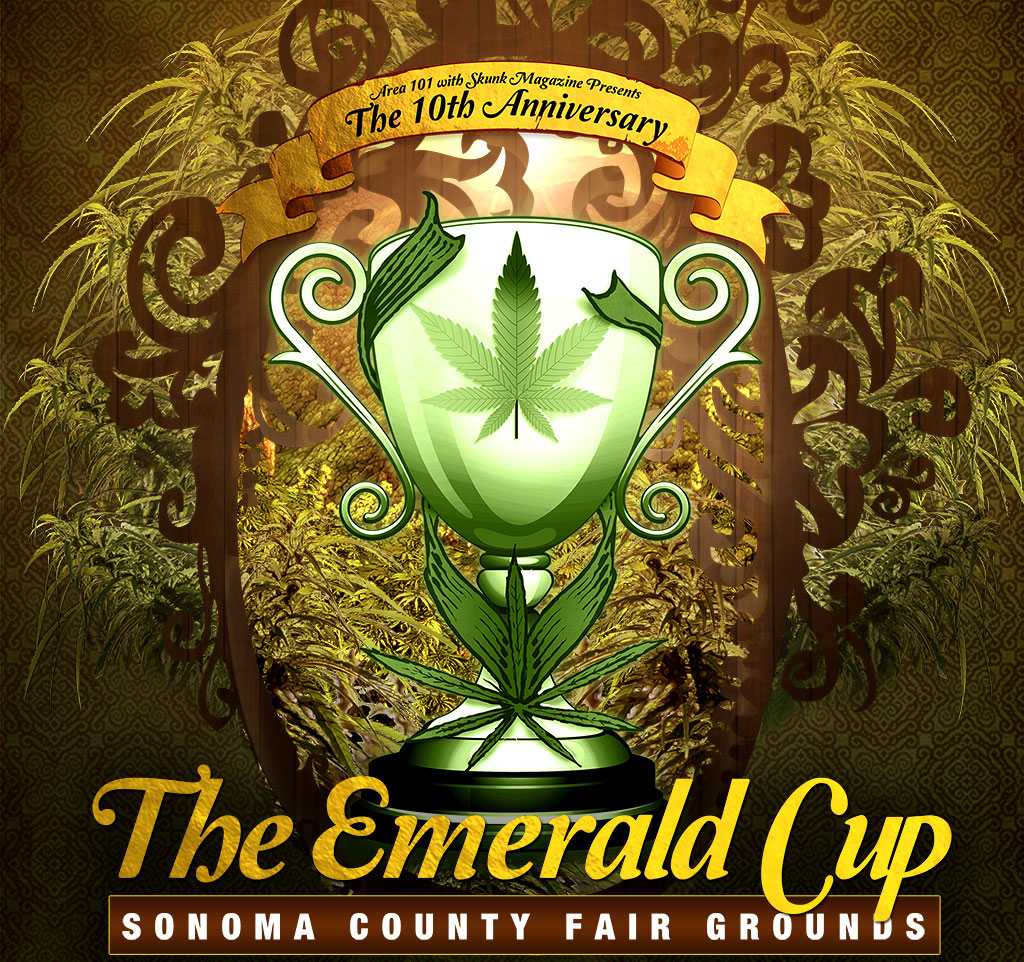 About this Event
The Emerald Cup is the world's longest running outdoor organic growing competition. It is held every year in December after the Northern California outdoor harvest.
Since its inception, The Emerald Cup has seen a notable rise in popularity. Tim Blake, the cup's producer, said the first event, which was held in Laytonville, only had 23 entries. That number rose above 200 by the time 2012 rolled around.
The event teamed up with Skunk Magazine to move The Emerald Cup out of the shadows and in to the Sonoma County Fair Grounds in 2013.
Latest Video
https://www.youtube.com/watch?v=DQiRG4blKDU
You can learn more about the event at their website: http://theemeraldcup.com.
Event Hours
SAT DEC 14

11:00 AM

- 12:30 AM

SUN DEC 15

11:00 AM -

8:30 PM
In The News
RECAP: The Emerald Cup Celebrates Ten Years Of Growth In Northern California
SANTA ROSA, CA — Cannabis enthusiasts from all walks of life gathered at the Sonoma County Fairgrounds this past weekend to celebrate a successful harvest, while exchanging knowledge with friends new and old. Uprooting from its traditional location in the "Emerald Triangle," the epicenter of California cannabis, The Emerald Cup migrated to Santa Rosa in 2013. Founded by Tim Blake ten years ago, The Emerald Cup is the longest running outdoor organic growing competition in the world. The flagship event was held in Laytonville, CA and drew just 23 …
The 2013 Emerald Cup Will Honor Two Legendary Activists
The Emerald Cup Lifetime Achievement Awards Announced For those who don't know, The Emerald Cup is the world's longest running outdoor organic growing competition. This year's event will be held December 14-15 at the Sonoma County Fairgrounds (Northern California). "Dennis Peron and Debby Goldsberry will receive The Emerald Cup Lifetime Achievement Award." Largely due to its home at the epicenter of the Northern California cannabis community, The Emerald Cup has long been entrenched in the culture and the activism that surrounds it. As a result, the event has made …
Sonoma County Will Host The 2013 Emerald Cup This December
Sonoma County Will Host The 2013 Emerald Cup Founded in 2003, The Emerald Cup is the longest running organic outdoor growing competition in the world. This year, the event will be held December 14 and 15 at the Sonoma County Fairgrounds in California. "The winner will receive a 2-week, all expense paid trip to a cannabis friendly resort in Jamaica." Since its inception, The Emerald Cup has seen a notable rise in popularity. Tim Blake, the cup's producer, said the first event, which was held near Humboldt and Mendocino, only had 23 …