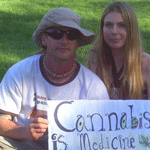 Biography
I am the first production manager at Advanced Grow Labs in West Haven Connecticut, a 26,000 square foot production facility.
As the first employee of this pharmaceutical modeled company, I have been deeply involved with the build-out of the re-purposed facility.
Interviewed and hired the majority of specialized personnel and general labor positions.
I set forth and successfully executed the original propagation and flowering cycles and harvest windows.
Currently assisting our in-house chemist and extraction specialist with the down stream refining processes.