view full HD gallery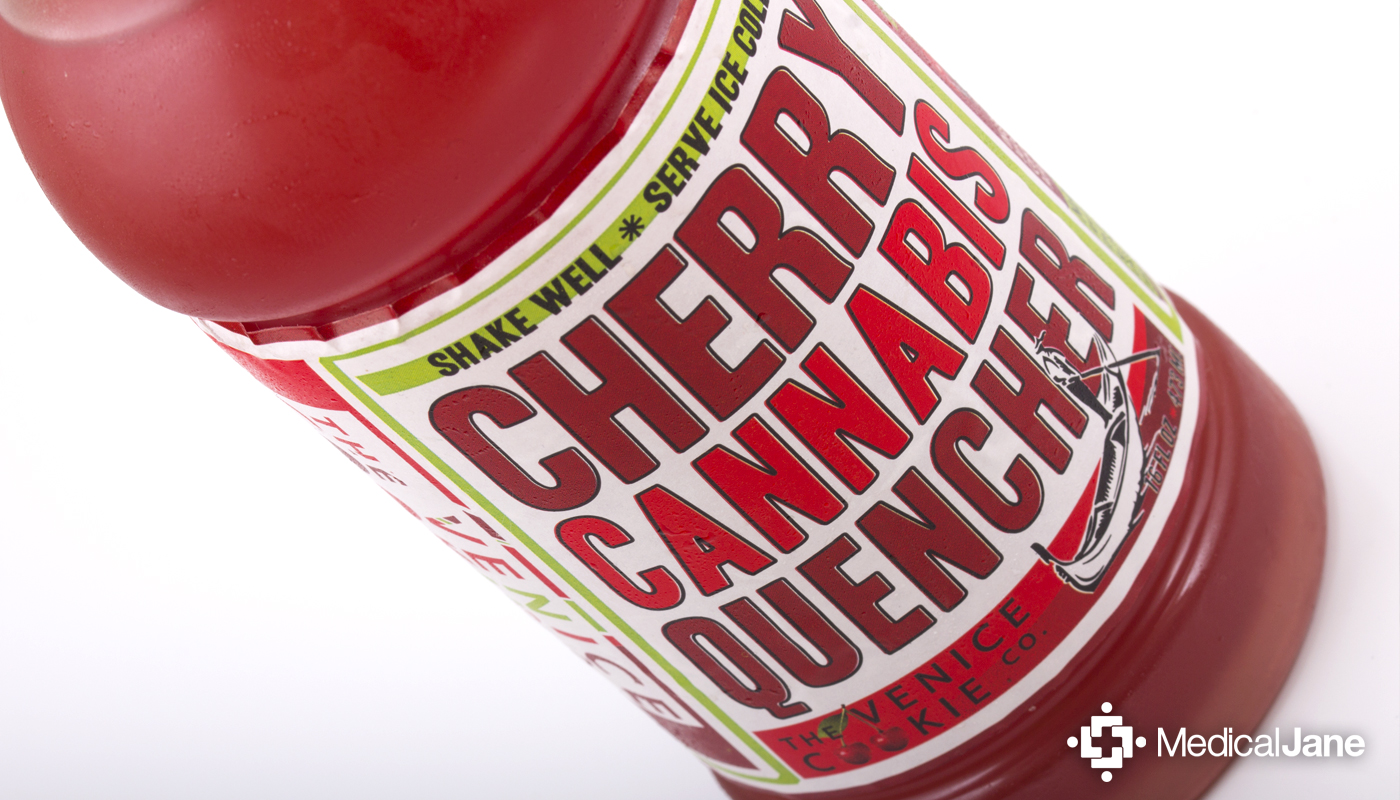 Cherry Cannabis Quencher Brought To You By The Venice Cookie Co.
Available to MMJ patients in California, this Cherry Cannabis Quencher by the Venice Cookie Co contains roughly 1.68g of cannabis (72mg THC) and tastes a lot like fruit punch.
Always Remember To Shake Well And Serve Ice Cold
Working with a number of quality dispensaries, The Venice Cookie Co. provides cannabis infused products to medical cannabis patients throughout the state of California. I have had the pleasure of sampling a number of their products in the last couple of years and am always impressed. They are easily one of my personal favorite infused edible producers.
The Venice Cookie Co.'s product line is wide-ranging and includes the following: Cannabis-Infused Lemonade, Grape Cannabis Quencher, Indica One Tincture, medicated peppermint patties and their signature line of 4.20 Bars (Milk Chocolate, Dark Chocolate + Sea Salt, Milk Chocolate + Toffee, and Dark Chocolate + Popping Candy).
In addition to all of these popular menu items, The Venice Cookie Co. now boasts a Cherry Cannabis Quencher for patients seeking a healthy treat to satisfy their sweet-tooth. I got a chance to try this finally, after being a big fan of their infused strawberry lemonade that I reviewed earlier this year.
Looking at the ingredients on the side of the bottle, one can see that the Cherry Cannabis Quencher consists of purified water, stevia, erythritol, sour red cherry juice concentrate, dark cherry juice concentrate, cannabis, malic acid, sodium benzoate, potassium sorbate, and organic black cherry flavor concentrate.
Cherry Cannabis Quencher Consumption Advice
Before you know the effects of this product, consume only a quarter of the Cherry Cannabis Quencher and wait a minimum of 75 minutes before consuming another portion. This will allow you time to feel the first wave of effects from the edible, which as you may or may not know, takes much longer to reach its highest point than smoking or vaporizing cannabis, which is almost instantaneous.
The Venice Cookie Co. has a suggested serving size of 2 for their Cherry Cannabis Quencher, which I find to be a little more than I personally need. After just 2-3 sips (where the ridge starts to curve inward at the top of the bottle), I can already start to feel the beginning of a cannabis buzz kicking in. This is especially good news for patients with lower tolerances, as you will be able to get at least 4-5 doses out of just one drink. Simply remember to put it back in the fridge when you are done and you'll be good to go. Although that is easier said than done… believe me!