Dr. Robert's Big Bang Brownie Medible
The Big Bang Brownie is a medicated edible with roughly 250mg in each packaged good. This equates to approximately four servings per brownie. A great value for people on a budget; patients can make their money go a long way when they choose to medicate with "The Dr."
The Big Bang Brownie Is Hand-Crafted By Dr. Robert's Edible Company In San Diego
Realistically, a small brownie with this much concentrated THC could easily provide you enough THC for 2-3 days (depending on your tolerance). That's if you stick to eating just a quarter of the brownie after dinner each night, to help wind down for the day.
As the labeling states, these Big Bang Brownies are made on equipment that is shared with peanuts and soy products, so buyer beware if you are allergic to nuts or soy.
Each brownie is made with sugar, eggs, cocoa, butter, vanilla, flour, chocolate chips, and the most important ingredient: cannabutter.
How Will Dr. Robert's Big Bang Brownie Affect Me?
Stress is erased from the equation which is life. This care-free vibe continues to build as the medicine from the Big Bang Brownie is broken down and digested by the body.
"Within just 15 minutes of consuming a 1/4 chunk of the Big Bang Brownie, I began to feel the first wave of psychological relief flow through my veins."
There is a noticeably strong body-melt generated from each bite, that could easily be considered overwhelming to a first-time patient.
However, this high level of potency is the exact reason why I love these edibles from the Dr. Roberts company. Their products are typically great for chronic pain patients and those suffering from inflammatory issues.
For high tolerance patients, I always suggest going for half at a time. It's hard to judge how much an edible will effect you for the first time — so remember to keep it light and eat more if you want to increase the effect after an hour.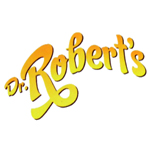 Dr. Robert's Bakery
Dr. Robert's Bakery is based in San Diego, CA. They have a variety of medible options, all of which use canna-butter. They are the home of the 42 Brownie, which is one of the most …