view full HD gallery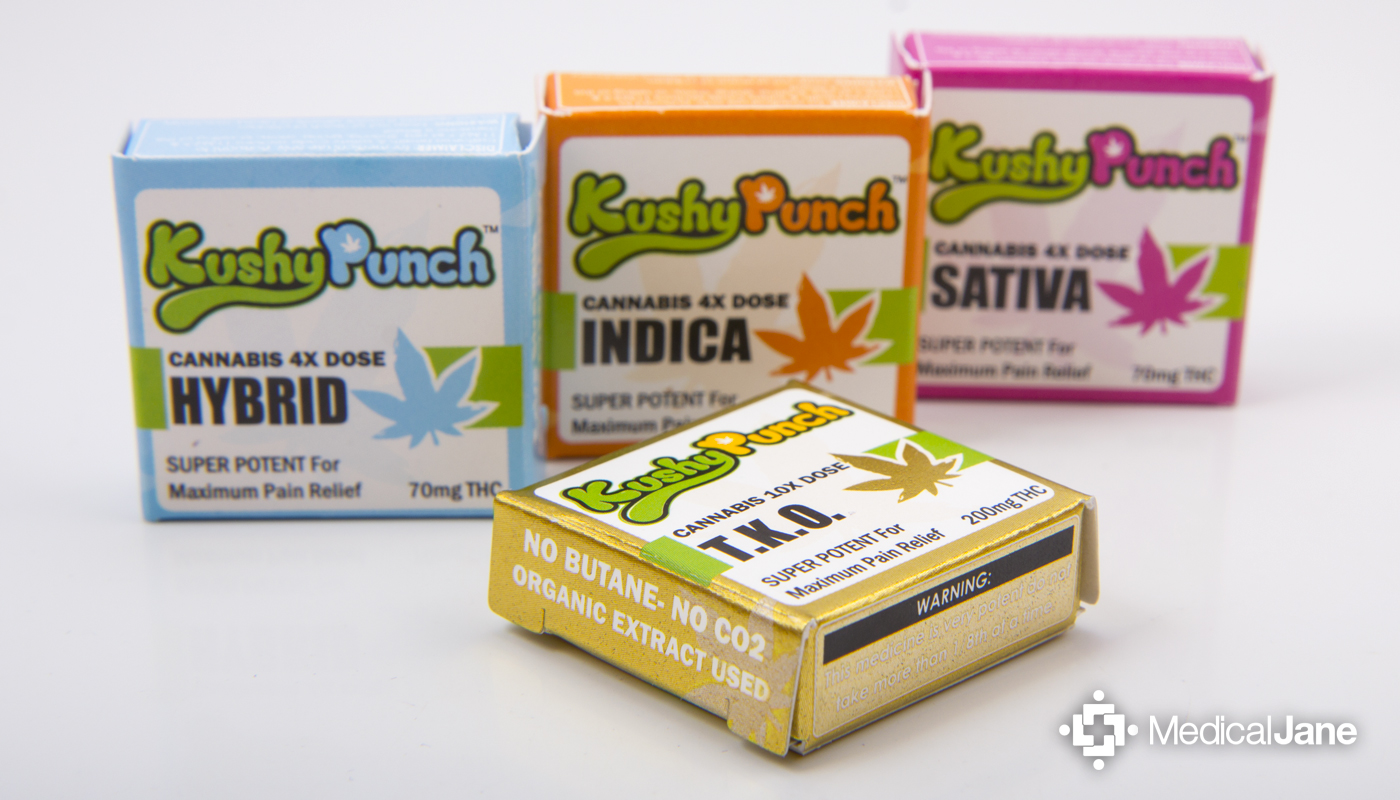 Kushy Punch Infused Edible Products
Employing an array of MMJ artisans, the Kushy Punch company has created a line of infused edible gummies that taste great and are easy to take on the go.
What Is A Kushy Punch? How Much Cannabis Is In One?
With over 70mg of active cannabinoids, each Kushy Punch packs the potency of several slightly less powerful doses of 17.5mg of THC. In fact, each Kushy Punch is packaged as one slab that is then wrapped up in parchment paper and marked as 4 individual doses on the package's sticker (as shown in the image below).
No butane is used in the making of this infused product. Each Kushy Punch is hand-made, crafted in California (where the Kushy Punch company headquarters are located). They then take their extract through a 3-step oil filtering process for maximum purity.
Although their small, shiny, non-child-proof packaging could be considered highly controversial, the Kushy Punch company is making strides to combat those naysayers. By implementing processes to ensure patient-safety, they are slowly gaining trust among medical marijuana patients throughout California.
For instance, all Kushy Punch products are lab tested batch by batch for consistency using gas chromatography. Then, the Kushy Punch team uses a 3rd party lab to verify all claims and posts the results on their website for the public to view every month — adding a layer of transparency to their service that can only be respected. If that wasn't enough, they also donate 10% of their profits to local charities.
Kushy Punch Available To Patients As Sativa, Indica, And Hybrid
To tantalize your taste buds as well as satisfy your medicinal needs, Kushy Punch comes in three different varieties including Sativa, Indica and Hybrid. Chewing KushyPunch and/or increasing the suggested dosage may interfere with the effectiveness and are not recommended. In general, infused edibles tend to take at least 30-45 minutes for the effects to start kicking in. As such, it's encouraged that you wait until the effects are felt before increasing any dosage, and even then, only if absolutely necessary.
"There won't be any sugar or corn syrup in our new CBD line. In fact, we plan on using real fruit as well… so the taste is going to be phenomenal." – Kushy Punch Owner
All KushyPunch products are made from California-grown buds, organic lemons, corn syrup, sugar, and starch. Not exactly the healthiest list of ingredients… Diabetic patients will want to avoid the Kushy Punch line of edibles, at least until they release their new healthier CBD line.
When I spoke with the founder of Kushy Punch, he informed me they are producing a new line of CBD Kushy Punches that will be made using 100% healthy ingredients. "There won't be any sugar or corn syrup in our new CBD line. In fact, we plan on using real fruit as well… so the taste is going to be phenomenal." I personally can't wait to try that product when it comes out.
For maximum pain relief and effectiveness, tear off just one dose, put it in your mouth, and allow it to melt thoroughly on your tongue.
Introducing The KushyPunch TKO: "Technical Knock Out"
The Kushy Punch team calls this infused product the TKO because of its high level of THC. Infused with 200mg of pure THC, the Kushy Punch T.K.O. is ideal for patients who have a very high tolerance and need a higher dose of cannabinoids than the average first-time patient.
Sectioned into 4 pieces (like the other flavors), each bite is infused with roughly 50mg THC — so be careful with your dosing and start slow. The thick, gummy texture allows for a small bite to last a long time. I found the Kushy Punch texture to be similar to a fruit roll-up or fruit-by-the-foot.
Instead of focusing on just one cannabinoid, the Kushy Punch team uses a whole plant extract for this product. They do this to get all the health benefits of the rest of the plant (along with the THC that most people look for).
With its grape flavor and whole-plant extract, this infused edible comes loaded other cannabinoids besides THC. I honestly did not like the taste of the T.K.O. Kushy Punch. The Sativa and Hybrid candies have much better terpene and flavor profiles — but that is just my opinion, what is yours?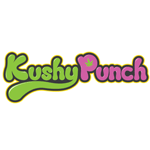 Kushy Punch
Kushy Punch is a dynamic new edible in the MMJ industry. Transparent and always safe, we are at the forefront of the extraction process, crafting an organic, whole-plant extract, that is residue-less and highly potent.