view full HD gallery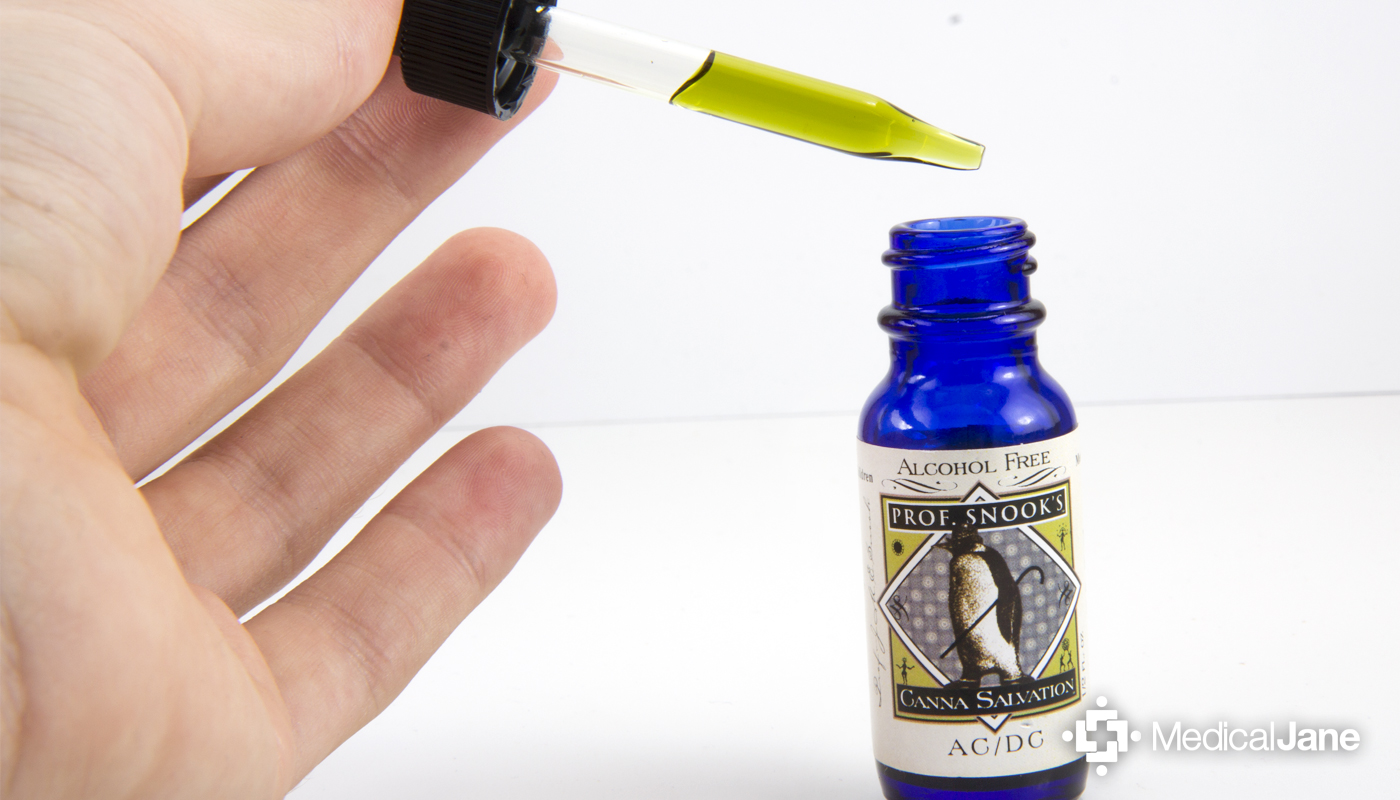 Prof. Snook's Canna Salvation – AC/DC Tincture (Olive Oil Base)
After decades of growers aiming to boost THC percentages in their crops, many producers have switched to focusing on harvesting CBD-rich strains because of the increasing demand by medical users. For those unfamiliar with cannabidiol (CBD), the compound has many medicinal benefits without the "high" that some patients do not desire. This makes products containing CBD appealing to patients who are looking for an alternative to their current meds, which often have opiate-like effects. The AC/DC strain of cannabis has become well known in recent years for its unique cannabinoid profile and record-setting CBD content.
Many veterans have found high CBD strains such as AC/DC to be very effective in helping them cope with the crippling effects of PTSD. CBD works to counteract the psychotropic effects of ingesting too much THC. As such, if you find yourself "too medicated/high" at any time, you may want to consider upping your CBD intake.
How to Use a Cannabis Infused Tincture Therapeutically
Using the correct dose of cannabis is the single most important factor in having a successful therapeutic relationship with cannabis. Unlike most medications, cannabis cannot be prescribed at a certain quantity and frequency based on body weight and age. We all have a unique internal chemistry, and the cannabinoid system is very complex, so different dosages will be best for different people. With cannabis it is important to remember that for most people, less is more. Using too much cannabis will often decrease its effectiveness and increase the unwanted side effects. In fact, anecdotal evidence/studies have shown that patients tend to feel more energized and clear-headed when medicating with low doses of THC as opposed to high doses — although effects will vary from person to person.
Organic Olive Oil Infused with Organically Grown Cannabis
Professor Snook's Canna Salvation is an alcohol-free tincture made from organic olive oil and organic cannabis. This specific tincture from Prof. Snook's includes 148mg of cannabinoids per bottle with a CBD:THC ratio of 20:1.
In theory, the high CBD to low THC ratio should increase a patient's ability to concentrate while working to reduce anxiety, muscle tremors/spasms, and even assists in curbing seizures. Researchers have found evidence that cannabidiol might be very useful in treating degenerative brains disorders like Alzheimer's Disease, Parkinson's Disease, and dementia.
The company recommends the tincture be administered at a dose of 1 drop per 25 lbs of body weight to begin with, increasing the dose slowly until relief is found. The bottle's label says 5 drops is a beneficial dose, so I guess Prof. Snook's assumes everyone weighs 125 pounds.
What to Expect from Prof. Snook's AC/DC Tincture
To administer a dose, use the dropper to put the drops underneath your tongue for about 15-30 seconds and swallow. Patients seeking long-term calming effects from CBD, should be prepared to take this tincture several times a day (every few hours).
Because this tincture contains little to no decarboxylated THC, it is nearly impossible to notice any change in your health, mind-state, or energy level after just a few uses. However, that doesn't mean the tincture is not working or that it is not effective… it just means that you may want to think of this product more as a dietary supplement than a means of curbing chronic pain or dealing with other life threatening illnesses.
Regardless, the fact that the Prof. Snook's does not provide accurate lab test data, tracking codes (important for product recalls), an expiration date, or advice on storing the tincture to maximize the product's lifetime makes me uncomfortable medicating with it and stops me from recommending this brand to other patients. Use with caution.