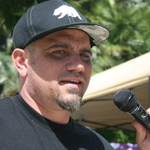 Biography
As news of Mickey Martin's death spread on Wednesday, June 21, 2017, friends, colleagues, and fans poured out their grief and disbelief on social media. Even those who didn't always agree with his outspoken opinions, respected him for his honesty and dedication to the betterment of the cause. Mickey labeled himself as the "Self-Appointed Leader of the Weed Movement," and he didn't hesitate to tell it like it was.
Parents 4 Pot, of which Mickey was the founder and current treasurer, said there are "no words available to describe the utter anguish the Parents 4 Pot family feels in sharing the unimaginable news of (Mickey's) passing."
Mickey Martin, along with Ed Rosenthal and Dr. Gregory Carter, authored the book Medical Marijuana 101. In 2014, Mickey opened Northeastern Institute of Cannabis (NIC), a school in Natick, Massachusetts, offering a 12-course basic-training program to help students get into the marijuana industry.
His work in providing food-based medicines for many years revolutionized the industry in the areas of quality assurance, packaging, and labeling of cannabis products. His infamous designs made the term "tainted" a household name among medical cannabis patients and edible connoisseurs. The evolution of Tainted to Compassion Medicinal Edibles epitomized everything that is right about the medical cannabis movement. As the legal and social concerns have morphed over time, so did this company of compassionate providers of the industry's safest and most delicious type of cannabis medicines.
In his role at the Mickey Martin Consulting firm, he was successful in helping several clients navigate the competitive application and permit processes for operating medical cannabis dispensaries. Mickey helped several municipalities and state governments develop and implement good medical cannabis laws and guidelines. He was at the forefront of the development of several voter initiatives, and attended countless hours of city council meetings.
Mickey graduated with honors from St. Mary's College of California in Business and spent over 13 years developing cannabis-based businesses in the community. His call for self-regulation and responsibility in the cannabis industry led to several victories for medical cannabis organizations across the country. He contributed research on many aspects of the cannabis industry, including nomenclature, history, safety, quality control, and cannabis production environments and methods.
Mickey wrote for several well-known cannabis publications and maintained a cannablog at www.WeedActivist.com, telling his experiences in dealing with major issues facing the cannabis movement.
Companies
Parents 4 Pot
Founder
Parents-4-Pot is a dedicated voice for all families who support the end of hemp and cannabis prohibition. The organization strives to defeat the social stigma surrounding adults who use cannabis responsibly. They support a parent's choice to use medical cannabis to treat their children's illnesses. Parents-4-Pot helps families with cannabis related issues through education, direct action and organizational support. MANTIS_RECOMMEND = { property: '53422cdc8e92f89afbf09d5f', render: 'mantis__recommended__wordpress' }; var z = document.createElement("script"); z.type = "text/javascript"; z.async = true; z.src = "//assets.mantisadnetwork.com/recommend.min.js"; var s = document.getElementsByTagName('head')[0]; s.parentNode.insertBefore(z, s); …